Adventures in Lyme Regis…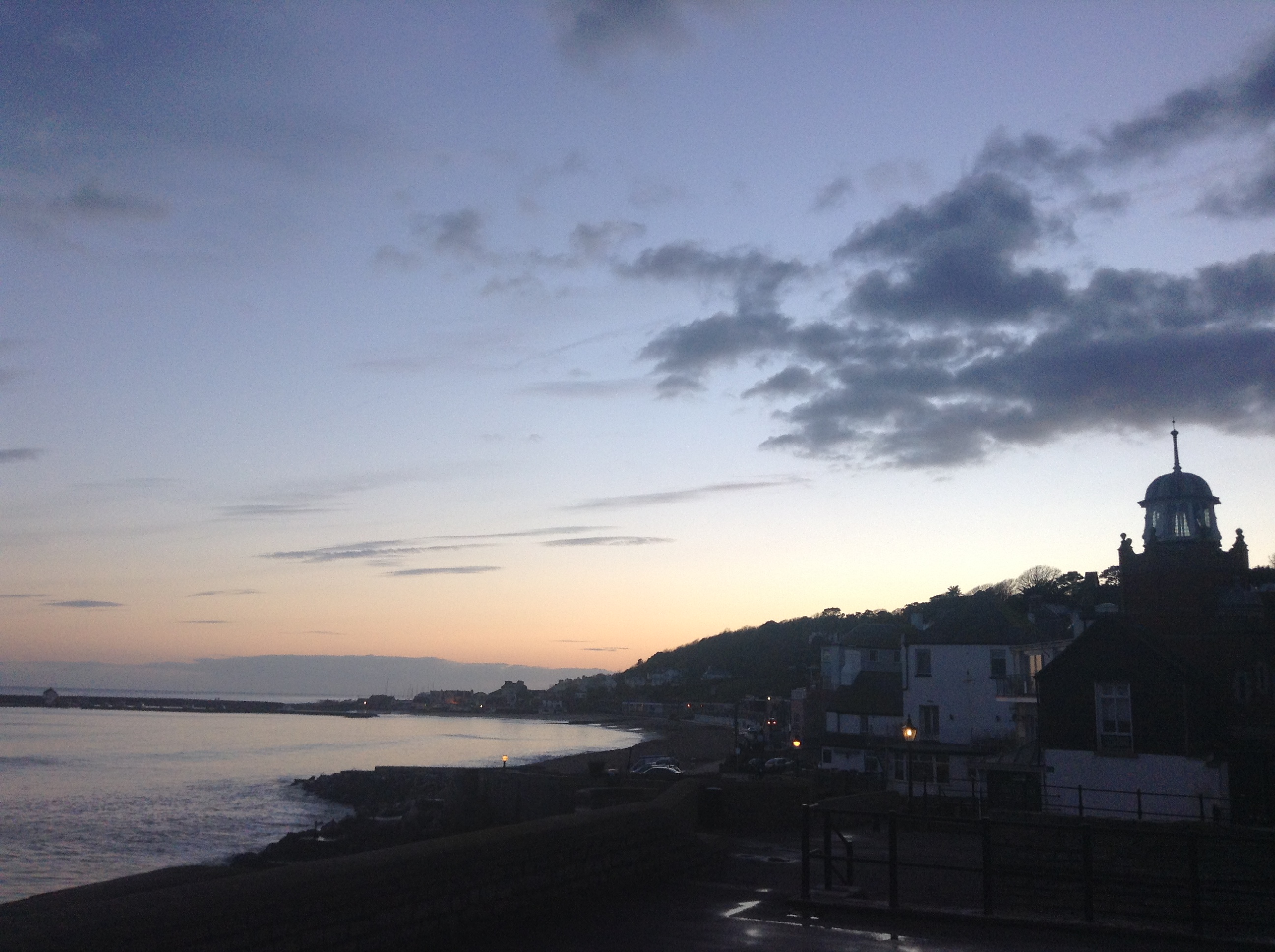 One of the great perks of being a lighting designer, is every now and then it takes you on an adventure.  A few weeks ago, this adventure was in Lyme Regis.
I know very little about Lyme Regis.  My Mum informs me it's been the setting of a couple of novels.  My friend from Somerset informs me it has fantastic chips and clotted cream.  Two American friends who holiday there regularly, on hearing that this was my destination, joyously exclaimed 'squid butts!'
Squid butts, it turned out, referred to fossilised squid butts.  'Everyone always goes down to the beach and turns right,' explained my friends, 'but the secret is to turn left, walk into the bay, find a good spot and just settle down and start digging for million-year-old squid butts.  So many just waiting to be found.'
'You realise I'm there to work, right?'
'Yeah… but it's Lyme!'
To me, Lyme Regis is the starting point of the 1685 Monmouth Rebellion.  This uprising was one of the events I had to study for my university dissertation, and has since been abused fragrantly for literary purposes in a manner I can't really go into now.  Basically, the Duke of Monmouth – Charles' I illegitimate son, albeit one of many, was exiled from England by his Dad for conspiring against him in the Rye House Plot.  When Charles died, his brother, James II came to the throne.  James II, however, was Catholic, which wasn't particularly fashionable at the time, (Papists, as they were known, were regarded as tyrannical monsters who probably put babies on spikes) … so the Duke of Monmouth took it upon himself to come back and invade England.  He landed at Lyme Regis, raised an army, marched around the West Country for a bit, before being squarely defeated at the Battle of Sedgemoor.  In the aftermath of that particular punch up, the Duke himself was executed, and thousands of his followers were killed, and many hundreds more were sold into slavery and sent to the West Indies where, so the legend goes, there is still a suggestion of Somerset accent to be heard in the accent of the locals.
This, then, is what I knew of Lyme Regis.  As luck would have it, the town museum seemed to roughly agree with all the information I'd so far been given, advertising itself with the words, 'Revolution, Rebellion, Fossils & Jane Austen' that well known quartet.
During my stay I did do a lot of work, drawing groundplans, helping paint, playing stage manager and of course, somewhere in this, doing a lighting design.  But this didn't mean I wasn't going to go on a few adventures.
First thing to note is that Lyme Regis is uphill.  Technically speaking, it's downhill, but somehow the downhill part isn't so noticeable at 9 a.m. in the morning as the uphill part is at 9 p.m..  A steep valley runs either side of the River Lym, which drains into the sea at the foot of the town.  The harbour wall creates strange variations in both current and shingle along the beaches – nearest the wall is what I can only describe as golden sand, but away from the shelter of the harbour the beach becomes rocky and, I'm assured, full of squid butts once again.  The town itself is twee.  Twee, for anyone who is wondering, is a proper English word for almost-too-cute-to-be-true.  Little winding streets of small, brightly painted cottages with neat gardens; alleys between flint-knapped walls and past thatched Ye Olde Inns give you a sense that nothing much has changed her for the last few centuries, except perhaps the tourism.
Let me add, this is not a complaint!  It was a lovely place to play tourist.  The cream teas – oh, the cream teas! – jam and clotted cream and hot scones.  The fish and chips, which myself and the set designer did, in deference to English seaside tradition, eat by the sea in the rain.  The fudge shops, complete in one case with a woman stirring what I can only describe as a cauldron of melted sugar on a stove.  The fossil shops, the art galleries, the dinosaur museum – hell, even the temporary hoarding on some of the beach works were painted in the colours of English Seaside Delight.  And for a Londoner, not used to such things, at night it was quiet.  So quiet, and so dark, the sky full of stars and the distant sound of the ocean breaking against the shore… it is an undeniably beautiful place, if so much stillness and fresh air didn't freak me, an inveterate Londoner, out a little.
And in conclusion?  Last year, a friend and I went on a driving adventure to the Cotswolds for two nights.  This year, perhaps we might try Dorset.