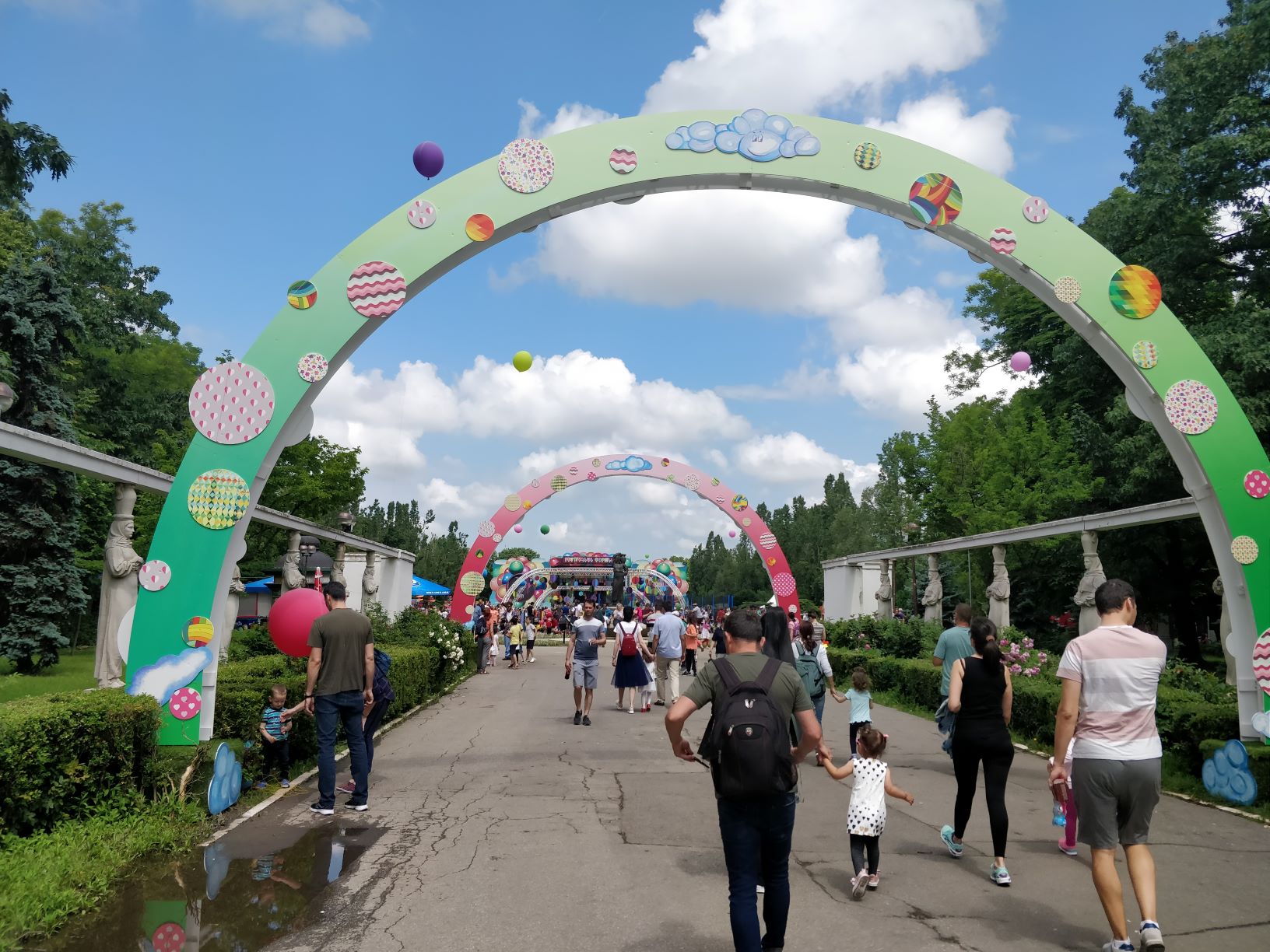 "Do you fancy a trip to…." began the representative of the British Council.
"Ohohohohoh yes pick me!"
"… now, hear me out, because it's important you understand…."
"PICK ME PICK ME PICK ME!"
Maybe nuanced negotiation isn't my top thing. But hell, if anyone wants to send me on adventures then I'm totally in, 'cos it's amazing.
I landed in Bucharest after a storm. And the Pope. Both were considered disruptive by the man who met me at the airport. Floodwater had temporarily blocked off the main entrance to the airport car park, and now gaggles of men with rolled-up sleeves and wet shoes stood beneath the low concrete ceilings hawking for passengers and rides to destinations unknown. The arrival of a Pontiff had made the already bad traffic even worse, and as if that wasn't enough, a lot of places in Bucharest – not a particularly Catholic city – had stopped serving alcohol in honour of the Pope's visit.
Beneath sodium motorway lights and to the sound of Bob Marley on the radio, we headed south through Eurosprawl – garages with big red signs, furniture outlets, tech offices, superstores and cinemas with attached hamburger joints. Along the side of the motorway, cables were draped from post to post like old laundry lines sagging under invisible weight. When the city proper began, it did so with huge, one-way boulevards of weaving, honking traffic framed by explosions of green. Vines ran across the wires overhead, drooping down like a jungle canopy.
"Ask me about Romania," exclaimed my companion. "Ask me questions – I answer."
"Why does the language sound so much like Italian?"
"Ah, I tell you. We used to be called Dacia, then the Romans came! Now we have bit of Italian, Russian, Turkish, Serbian – everything. We are middle of world."
Everyone was pleased to try their English, which was a relief, as my Romanian was about four words and a lot of hopeful gesturing. Giant billboards offering medical services, new vacuum cleaners, banks, summer fashion and exotic breaks were in a mix of Romanian, English, icons and #tags. The hotel had a Chinese restaurant, a deserted gym in a basement accessible only by a single isolated lift, a breakfast of cold meats, preserved fish, olives and pastries, and faked stained glass windows which, when the light caught them just right, lit up the whole lobby in deep blues and vivid oranges.
My hotel room was on the fourth floor. The window didn't open, and the TV seemed to have the power to be on even when the power was off. But the bed was large and squishy, and after a flight from Heathrow, I was out like a light.
Bucharest has a book festival – Bookfest – and in 2019 the British were guests of honour, despite us being, you know, pretty pants when it comes to Europe right now. I've been to book festivals before, but had never encountered anywhere as relaxed as Bookfest. Children scampered up and down, sat cross-legged in the middle of aisles immersed in books while British Council volunteers plied them with balloons. At the stand of my Romanian publisher, Paladin, I dribbled with envy over the beauty of many of the covers designed by their art director, Alexandru, and was astonished to discover that even here, people seemed pleased to see me. (I'm astonished when people are pleased to see me in the UK, let alone in south eastern Europe.) After an afternoon of talking, I headed south through the city towards the Old Town.
Bucharest feels like a city changing. The streets are full of youngsters in decidedly hipster cafes, drinking cocktails and juices while being served smashed avocado on rye bread, and holding forth in as much fluent English as Romanian. Turn another corner, and older men and old women glance at you from crumbling doorways, and turn away. The smell of cigarette smoke is everywhere, and the chaotic nature of Bucharest traffic creates whole avenues where cars are parked diagonally side-to-side like dominos waiting to fall, so the boundaries between pavement and street blur. Trees hang over every other street, and parks burst out in fresh smells of pine and sap, every other corner offering to sell you ice cream.
In a single street, you are likely to encounter, pressed against each other like peas in a pod:
Crumbling nineteenth century grandure, broken glass and cracked plaster, high ceilinged and long stairs, a place where one the great and the good held forth with champagne, now boarded up and covered in grafitti.
Restored grandeur; the lion statues outside polished back to life, the Romanian flag and EU flag flying in the breeze behind iron fences, clean windows and huge, heavy open doors painted baby blue beneath the pastel walls.
Concrete communist slabs, combinations of squares wedged together like tetris blocks, air conditioning units stapled on the sewage-toned side as an after-thought.
Hyper-modernist architecture of glass and timber, sloping roofs and potted plants.
Communist megaliths, giant architectural UFOs landed in the middle of a roundabout, now given over to government business or modern art.
The old town was small and heaving. Sex clubs specialising in drunken stag nights sat above pubs with English menus and prices in Euros. Packs of docile stray cats circled the feet of the accordion player, his whole face hanging down as if dragged there by gravity. Near the white Orthodox churches, gaggles of brides and grooms, followed by their chromatically-matching bridesmaids, paraded up and down to be photographed doing the most stately walk they could. Tourists peered at maps while trolley buses jangled round wide, busy corners. No one jaywalked. Goddamnit yet another country where no one jaywalks!
In the evening, drinks at a literary agency. The country's book market was, I was told, too small to really support the agent model, but here was one of the exceptions to the rule, welcoming us into a grand study lined wall-to-wall with books, serving pasties stuffed with cheese and meat, and endless, delicious chocolate cake. Bucharest has mastered the art of the French patissery; not a nibble of pastry that wasn't a delight. Cigarette in mouth, our hosts discussed international literature and the joys of the countryside as the sun settled and a friendly cat curled round our legs.
The next morning I walked to the Expo Centre, up wide boulevards of coffee shops and pubs, tiny newsagents and discrete food shops specialising in plastic sausages of compressed meat and sensible vegetables. The first park I passed through was full of children pedalling up and down on dinosaur-themed buggies, while their patient parents rattled and bumped over cracked cobbles behind. The next was huge, beautiful, and playing host to a 'Bubble Festival' in which a stage full of tiny children dressed in clothes somewhere between something traditional and a superhero outfit, bopped and waved their way through a series of juvenile pop songs to an audience of equally juvenile kids eating ice creams and bouncing on trampolines. Behind, two hot air balloons flared fire towards the sky, and endless stands of knock-off toys offered figures of Superman, that well known Transformer from the Avengers movie, at just 90p a pop.
North, a boating lake, the tourists pressed to the bridges and the banks. A circle of somewhat sinister bronze heads, each far bigger than me, arrayed in a ring of balding, stern faces, revealed themselves to be the founding fathers of the EU. An old woman in a headscarf sold plastic flowers; teenage boys whooshed up and down on skateboards, pausing to take selfies.
However, a tactical error: it was a Sunday, and that night as I tried to find food, 90% of the places I passed were closed. In the end I went into the only one that seemed open, a pizza place with 80 seats, in which I was the only diner. A webcam stared grimly at me from a shelf adorned with an old moped. Squirrel bulbs hung above the tables and their little potted plants. The waiter did not appear pleased to see me, but hell, it was food and their doors were open.
Returning to the hotel, a wedding was in full swing downstairs. Europop was briefly silenced for a dance of the women, hair wrapped with flowers, moving round in a slow circle to song and the violin. Then more Europop. In the car to the airport the next day, a song came on that I recognised.
"Hey, I lit this!" I exclaimed – a phrase that comes out of my mouth more and more these days, though I'm still surprised by it.
"It is good song," proclaimed my driver, as we sat in sluggish morning traffic. "They say good things about it on radio."
And lo and behold, the song, having been played once, was now played again, with the DJs stopping this time to remark on it mid-lyric, like football commentators remarking on a dodgy pass or a decent tackle. Though it kinda horrified me as someone who just likes listening to music, I would have been fascinated to hear what they said.
At the airport, the security check-in was comically slow. One woman watched the X-Ray monitor, and when she saw something, rose from her chair, pulled out the back, swabbed it, opened it, searched it, then returned to the security monitor to check the next bag stuck in the machine. Four colleagues stood nearby, arms folded, doing nothing, and getting through took nearly twenty minutes. A group of American students complained in ever louder, passive-aggressive ways.
"It's just what they do over here," one chided. "Like, people here are really different."
The hall of almost-certainly fluent English speakers maintained a tactful silence.
Being asked to go on adventures is an amazing privilege, and the team in Bucharest treated myself and the other writers like royalty. But even without the wonderful treatment, I think, all things considered, that I'd like to go back to Romania again, and see the countryside everyone talks about, and maybe have a bit more ice cream in the southern sun.