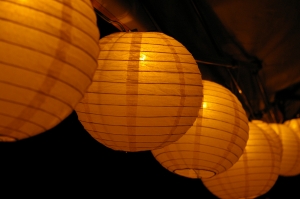 I was reminded by a lighting designer that I met at Comiccon Portugal (which was, by the way, epicly awesome) that I've been a bit quiet for a while.
His actual words were:  "I found your twitter account, but you hadn't posted since November so I thought it might not be real."
Which in fairness… posting on twitter isn't an accepted medical proof of life, even though I get where he's coming from.  It is true that for a few months, I've been pretty out of it, and am probably going to continue to be out of things for a wee while.  Here are some updates and some reasons why….
1. Writing.
There has been a lot of books stuff on.  The edits for 84K took forever, courtesy of a number of factors including but not limited to: grammar, plotting, punctuation, tax evasion (fictional), babies (actual, not mine) and the general election (true but unhelpful).  No sooner were the big bundle of edits done, than copy and proofs came through back-to-back, leaving me at the end of the entire thing, pretty damn broken.
Meanwhile, there's been a lot of activity in the cause of the Black Mirror novella, of which more another time!
Young Writing!  Sally Rooney is an awesome and groovy winner of the Sunday Times Young Writer's Award, and in the run up to it myself and the other lovely shortlistees (we are going to play D&D together sometime) did a fair bit of running around.  We were treated excellently and it was great fun to be part of it – even if it's difficult for me to answer the question "Now that you've had your first novel published, do you see yourself writing more?" without being a total douche.
Adventures!  Being asked to travel places in the name of books is always an honour and a privilege, and I hope never not to be grateful for the enthusiasm and kindness of the people I meet.  Consequently, the last few months have seen trips to Poland and Portugal, as well as the (slightly) nearer environs of Scotland, Norfolk and Derby.  Things I have learned: Portuguese toilets come with bedays; the bus in Motherwell is over-priced, the tram in Sheffield does weird things on Sundays, and when taking the train in Poland, always try to book in advance.  Challenging as that may be.
So yes… all things considered, it's been a bit of a time.
2.  Lighting
There have been a lot of gigs.  There was also a (lovely) dance show, in which I was largely left to do my own thing and figured… well, if it is my own thing let's see if I can make those awesome choices that usually I shy away from for fear of directors being sad… so I did… and the director was not sad… and there was much rejoicing.  But yes, in between all the scribbling there has been a lot of attacking the flash button on the lighting desk, learning new tricks and meeting new bands – of which my new favourite might be Nadine Shah, everyone go buy her stuff now.
3.  Life
And finally there's been a lot of life going down.  Friends, family and life-shaped adventures… although it has been pointed out to me that in the last 9 years, I have in fact managed a grand total of 7 weeks holiday.  Which might also explain my current erratic updating, as I'm basically knackered.  Knackered in many good causes – it's been a ball and I'm constantly grateful that the things I love are taking up my time.  But I'm also ready for a very, very long holiday.
Sleep soon – and then more adventures!