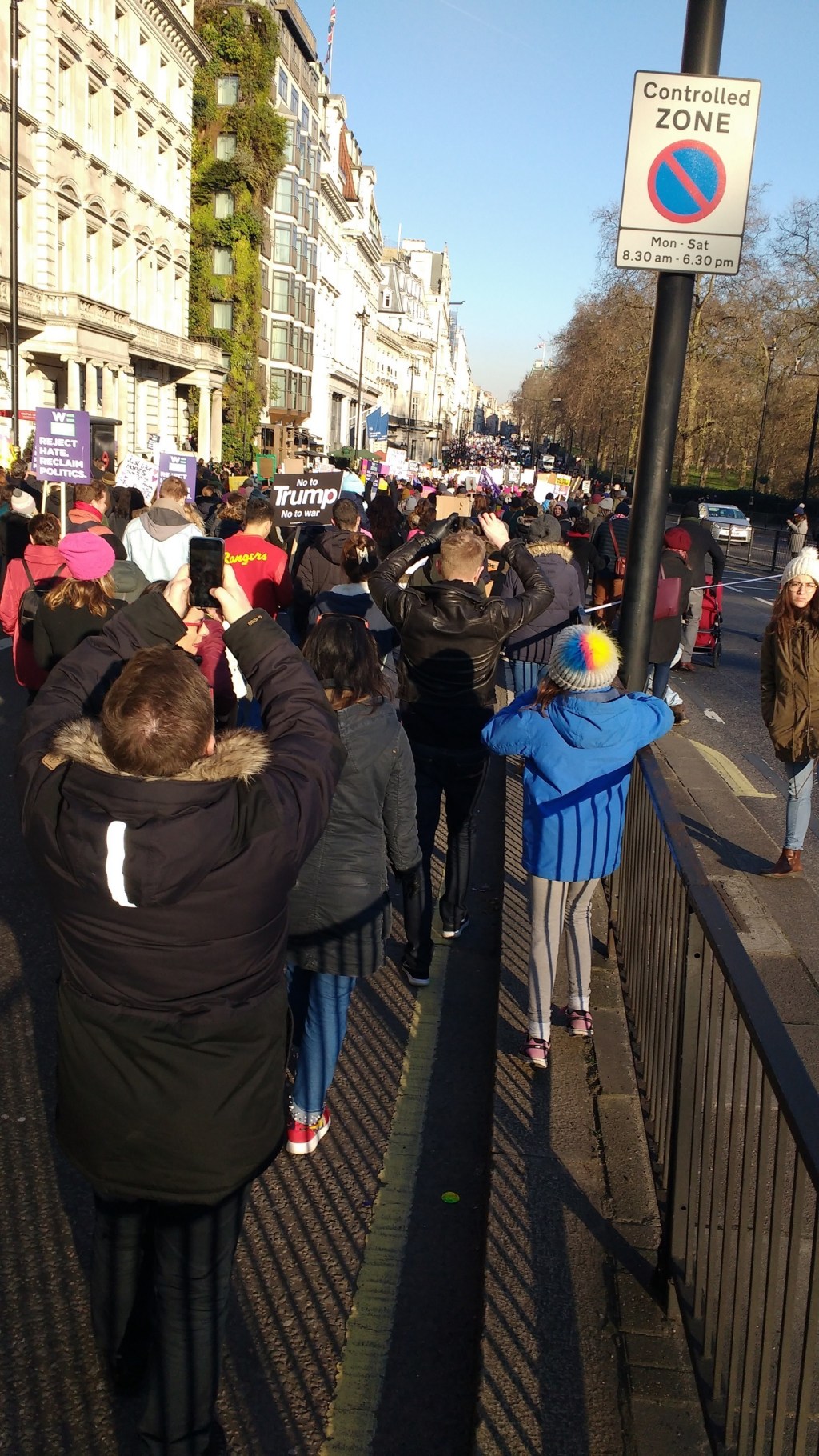 I did not go to the Women's March in London to march against one man, or one idea, or law, or one nation.
I did not walk in rage, or because I am more oppressed than another, or because my voice is uniquely powerful, or uniquely right, or uniquely true.  I am privileged in many things; my privilege did not come from a vacuum, and does not buy the right to isolation.
So I went marching, in solidarity with an idea.  An idea of equality for all – for the men who are denied a right to express their anger – for the women who are treated only as sexual stereotypes and denied freedom of choice and body – for all those who wish to have their identity respected, who all of who are human all the way down and are denied the basic respect of humanity.  For the minorities who are told to be good, be quiet, and accept the status quo in which they are lesser than others; for those who are denied a voice, an opportunity or an education and who are treated as less valuable people than the rich.  From these simple ideas flow more – and so we marched for a healthcare system that is fair to all, for care for the elderly and support for the young.  Sometimes it is hard to remember that your ideals and your values are shared by others, and that the thing you are fighting for – equality, justice, compassion – is not just shouting into the void.  The Women's March filled the void with noise, that shouted back.
I marched because even when you have these rights, they are worth celebrating.  They are worth walking the streets for, with families, with children and with those who fought before to win us these rights, and to stand with others who believe in these ideas is to stand for a hope in a better future for all.  And even should elysium come, and all things be equal, I would still march for these ideas, to protect and enshrine them in everything we do.  Elysium has not come; we march.
I marched to walk with those who are fighting this fight, and to remind them that even now, they are not alone.  This voice will be heard; these values are worth fighting for, across the world, for all people.