The First Fifteen Lives of Harry August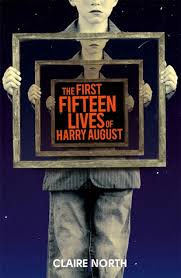 So for more than a year I've had very little to say about the things I've been working on.  I've had very little to say on this blog, in emails, at conventions, giving talks, doing readings or just talking to people who are affably curious to know.  Arguably, I've had so little to say that I've actually said a great deal, since dodging questions can often be harder work than just saying, 'yes, this'.  However, at roughly the time this post goes live, I should be on the radio saying tonnes about the books I've been writing all this time, and the book that's just been published, and the books yet to come, and since this is so I may as well say now…
I wrote a book called the First Fifteen Lives of Harry August.
To anyone who's read the Kate Griffin books and has been wondering quite what topsecretprojects1, 2 and 3.1-3.3 are then please accept now my apologies on having taken so long to own up to it, and having had such a thrillingly malicious time in teasing you about it.  The short answer is, topsecretprojects1-3.3 are the collected works of Claire North, a woman who's name it turns out has an 'i' in it, and whose signature, in those books she's signed thus far, only took three or four attempts before she worked this out for herself.
I owe anyone who's patiently sat on this blog waiting for some sort of publication news a far longer explanation, and honestly, now that I'm free to do so I will post about the book, about the pseudonym, about the sequels and… well… everything.  However, now, and for the sake of not shooting my mouth off before I can mix my metaphors, I'm going to leave things on an ellipsis and an extract link….
http://www.orbitbooks.net/excerpt/first-fifteen-lives-harry-august/