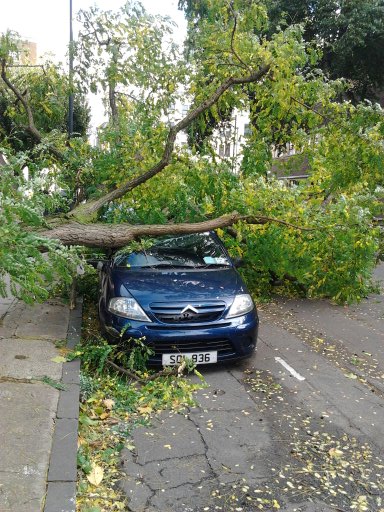 So, as anyone in the UK can't have missed, we've had a big storm across the south of England in the last few days.  We knew it was coming, so in the grand scheme of things, it could've been a lot worse, but it's still a strange thing to wake at 3 a.m. to the sound of someone having a pillow fight outside your bedroom.  With pillows of lead.
It's a sound I associate with being at sea – somewhere between waves smashing against the side of a ship and the lurch of a hull smacking into rough waters.  Except I live high up, in a concrete block in London, so the moment my whole flat shook – walls and floor bouncing with the force of wind screaming through – was a little disquieting.
And the wind did scream.  It's my drought excluder.  It does a mostly good job.  Except for those few places around my front door where it doesn't, and there the wind shrieks, a high-pitched shrill that's both audible and infuriating in every room in the flat.  At 4 a.m. I tried plugging these gaps with old newspaper and the Kings College London's alumni magazine that it consistently sends me despite the fact I never went there.  This helped a bit – until the force of wind coming in through the cracks around my door spat all this padding straight back out again.
By 8 a.m. the worst of the wind had subsided – at least in London – and at 9 a.m. I went outside to have a look and see what might be seen.
There's few sights sadder, to my mind, than fallen trees.  I think London is a city which is made by its trees, enriched by it.  Some are hundreds of years old, and they are a consistent spurt of nature and life in concrete streets.  Seeing fallen trees, therefore, induces a strange sense of loss in me, far more than the sight of a car squashed when said trees fell.
Leaves, twigs and branches – sometimes huge branches – have been ripped from the trees, leaving trunks scraped bare in places.  Late-autumn berries have been shaken down, while, in an act that feels oddly appropriate, in Westminster a crane has fallen on the cabinet office.  The upshot of this?  Nick Clegg can't do his monthly press conference.  What a blow….
However!
Let us not be too disheartened by all this!  Ever in search of an agenda, I might as well take this moment to point out that, should I ever find myself loaded with cash, I've already sworn to myself that the three causes I'd fight for are literacy, renewable energy and forests.  So, in the aftermath of this, I'm going around shouting from the rooftops for two charities in particular that seem most appropriate, given the circumstances:
http://www.treesforcities.org/about-us/
http://www.woodlandtrust.org.uk/