In Praise of… the Museum of London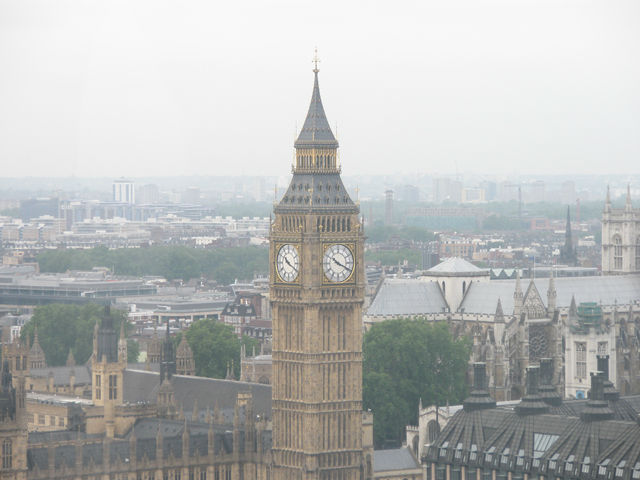 So almost the first thing you see is a big version of this:
Which I think is awesome, and oddly quite beautiful.
Actually, technically the first thing you do is attempt to navigate the highwalks and by-ways of the Barbican.  Sure, you could approach from St. Paul's station at ground level, but where's the fun in that when instead you could try wiggling through a sprawling complex of tunnels, stairwells, open walkways and exposed elevators in your search for the front door.
Once inside, the next thing you see is a hippo's skull.  Hippos, it turns out, once roamed free along the banks of what would become the Thames, a long, long time ago.  Great horned creatures prowled where Cheapside now runs; sharp-toothed predators and ancient men armed with hacked flint stalked each other through the thick undergrowth of Knightsbridge.  As you move through the exhibit, civilization grows.  A wooden figure known as the Dagenham Idol induces great cries of satisfaction from my friend.  'Dagenham!' she exclaims.  'Dagenham idol!  It's like an reality TV program but for druids!'
Weapons become more sophisticated.  Flint gives way to bronze; bronze to iron.  Broaches, dug up from a building site in Cannon Street, are beautifully carved to a needle-point; silver and jadeite begin to appear in tiny, delicately complicated ornaments as society starts to flourish.  Then the Romans arrive, in an explosion of stone and buried foundations that cause no ends of anxiety for town planners and underground excavators who, as they drill their first holes in the middle of the city, hope to highest heaven that on this building site they'll get lucky, and not unearth a Roman bath, an ancient temple, a lost forum which, naturally enough, the Museum will want to excavate before any building goes any further.
Coins found by the Crossrail diggers are lined up next to stones and replicas of ancient Roman life.  An exhibition is dedicated to the evolving home – Roman sofas and modern cushions, Anglo-Saxon styles and modern ways of living.  And there are smells.  Open up little flaps and you can smell the key stenches of the past; coal, cloves, lavender and, in a stroke of somewhat repulsive genius, a mixture of sweet herbs and whale vomit used by plague doctors to ward away evil.
Moving forward through time and fashions and ornaments begin to grow more complex.  I tried on a servant's hood; my friend discovered that she was very fetching in a Tudor leather jerkin and wondered where she could find one on the high street.  Spectacular Catholic ornaments gave way to more restrained Protestant ones, gold and gilt now being embedded on the jewels of the Lord Mayor rather than in the bishop's staff.  Every now and then, you slipped into a darkened room where a disaster was discussed; Black Death, the Great Fire, the Blitz.  Then out again to discover a child giggling with delight at a display dedicated to the evolution of the toilet and sewerage down the centuries.  Heading forward in time again, and Booth's poverty map of London filled an entire room, and we spent a good while finding where I was born (in desperate poverty, according to Booth), where my friend was born (in middle class delight) where I lived now (well-off but close to criminal elements) and where I grew up (middle class grandeur again).
"Look at this," said my mate, and my eyes turned to a painting that wasn't particularly to my taste – it was of a child trying to get the attention of a rich woman crossing a Victorian street.  He holds a broom, so he can sweep away the mud and dung that lies in her path in exchange for a few pennies.  There's a brass carving of the same image, so you can feel the textures of all the shapes in the painting.  Looking down at the picture I saw it was by a William Frith – my great great grandfather.
Now feeling both uplifted and a little flabbergasted, we went on.  A recreation of a late-Victorian market was next, complete with shop fronts piled with goods and the sound of horses, costermongers touting their wares and the cries of voices in the street.  Then on, to the 20th century and the evolution of fashion – the mini-skirt, punk, CND and the rise of Labour and socialism, politics and civic conscience, all the way up to the Olympics and of course, that essential of all trips, the museum shop.
And oh… the maps.  There were so many maps for sale in the museum shop.  Drawings and images from every era of London's history – we spent nearly as much time looking at the maps that we couldn't afford to buy as we'd spent in the exhibition galleries themselves.  One day, we promised… one day we'd return to buy all the maps…