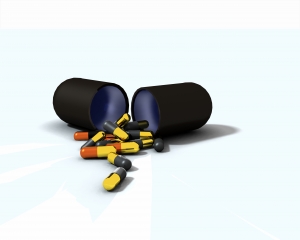 "The wages of sin are death!" my grandfather would wail, on those rare occasions when he came down with a disease.
"Mensch, wir haben gelitten," concurred my father from the darkened bedroom where he would lie, whimpering with surprising volume, during those rare days of his confinement.
"What's the point of being ill," he'd further add, when he felt able to engage in conversation, "If you don't let everyone know about it?"
Sat with my head in a bucket at 4 a.m. this morning, I was actually rather grateful that no one knew what was going on in my bathroom.  It just doesn't seem kind or humane to inflict this on anyone else, even a casual observer.  And worse  – when I finally recovered enough self-awareness to phone my ex-boyfriend at eleven o'clock this morning, to demand sympathy, I was a little embarrassed to learn that he too had been diseased not 24 hours ago, and had he felt the urge to phone me and wail down the phone?  Not so much…
Suffering in silence is all very well, but I can see myself going mad very easily in these present circumstances.  Even if the thought of eating anything at all didn't horrify me, the house is bare, quiet and still.  Laundry that needs laundering sits reprovingly in the basket and I would do something about it but every joint in my body aches like it's just climbed Everest in a pair of flip flops.  Total apathy, mixed with the desire to watch ridiculous amounts of TV, overwhelm the otherwise sound and sensible desire to sit up, stand straight and Get On With Things, damnit.  What I really need right now, is someone to a) provide me with toast and marmite and b) instill the sense that, while it seems right now that there really is no horizon, and the wages of sin quite possibly are death, somehow it'll be alright really.
Until that moment, I suspect that today is going to be a teddy-hugging, hot-water-bottle-filling, dressing-gown kinda write-off.  Which wasn't the plan at all.